Whoever starts a new website, the first two concerns have been content and SEO. In this ruthless competition, both parts are extremely tough.
The bad thing is that everybody around us is trying to feed up their knowledge, and which techniques to use and which not is always a great confusion.
You really need a big heart before trusting anyone in SEO, as minute mistakes can bring humongous issues. The source needs to be trustful, authoritative, and, most importantly, backed by results.
In the middle of so many tough rules and regulations of Google, starting SEO of a new site is riskier than you think.
It won't be wrong if we compare a new website to a newborn baby. Right nurturing is needed in both cases, and yes, a lot of care.
So, let us hold your hand and get you through the door of the SEO world!
First month SEO guide: Should you start SEO right away?
A very big myth in the SEO world is that SEO is mostly about backlinking! The truth is that backlinking makes even less than half of SEO, and even more importantly, 30-40% of tricks are never revealed because that's the gold mine.
We have been putting SEO efforts since 2003, and we've seen the whole evolution of SEO. We have an exact idea of what works for a new website in the current time, and that's the reason we are so confident about our SEO tricks for new websites.
Here come the tricks:
Create an XML sitemap + User sitemap
Satisfy EAT: privacy policy, about us, and Author page
Optimize your meta descriptions and page titles
List down your keywords and plan for the upcoming content
Create SEO friendly URLs
Profile creation (Social media and forums) will increase your reputation
Add a breadcrumb menu to the website's internal pages
Track your websites using Analytics, Webmaster, Ahrefs, and Semrush.
Interlink everything to the deepest point!
Make sure you follow them one by one and either bookmark this article, or list up the things mentioned below in your diary, notepad, etc.
1) Create an XML sitemap + User sitemap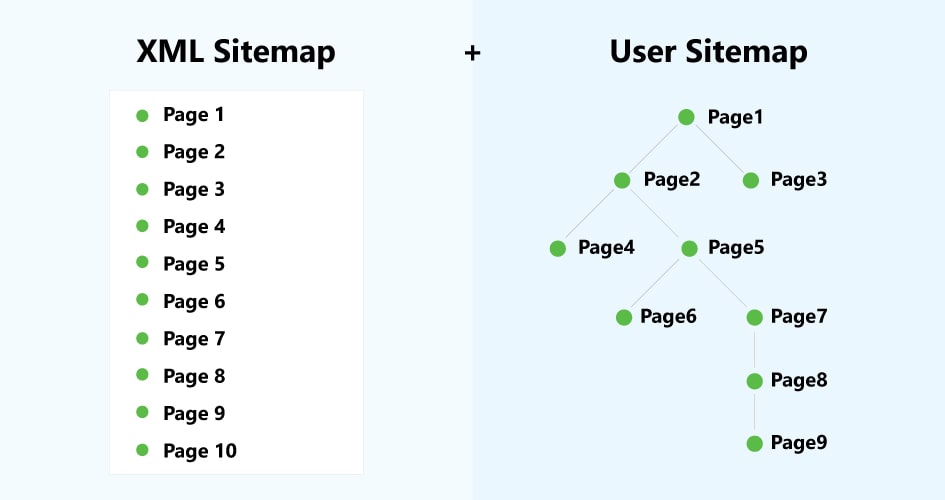 Now, this is basic, and yes, it's the start point of SEO. For the new website, you want to invite the crawlers as many times as possible and give you credits for your good work in the form of higher rankings.
Now, how would crawler come?
Well, you will have to show the path, and that path is exactly what we call a sitemap!
You can use plugins to generate and update your website's sitemap, depending on your blogging platform. For WordPress users, the Yoast SEO plugin does the job of generating an XML sitemap.
How does your sitemap appear on the browser?
Just put your website's exact link (homepage), and then add sitemap.xml in front of that. You'll be able to see your well-categorized sitemap.
The user sitemap is supposed to provide links to all (or just the crucial pages of your site). A sitemap can group posts by date, category, author, and so on. Its core purpose is to help crawlers and users to find info on your website easier and quicker.
2) Satisfy EAT: Privacy policy, about us, and Auther page
You have already created your website with all expectations and hosted it as well, but that doesn't mean that you'll start publishing stuff, and Google will trust it and rank it.
Wait, what? Making Google trust?
Yes, no matter what niche you've made your website, but you definitely need to make Google trust you and your content, and without trust, it won't expose your content to an audience that easily. After all, Google (and Yahoo, Bing, etc.) wants to feed only authentic and genuine data to the users.
How to develop this trust?
No, you don't have to walk to Sundar Pichai's door with a box of sweets!
All you need to do is – satisfy the E-A-T update, and your job is done.
We believe that E-A-T is crucial to most sites, but not all SEO's consider E-A-T as a ranking factor.
Ok, let's keep it straight. We're not using E-A-T as a core ranking factor, but we can use it as a sort of certification to make an image of a trusted source in Google's eyes. But before moving ahead, let's understand what E-A-T actually is.
E-A-T means Expertise + Authoritativeness + Trustworthiness. If your website is related to law, food, medicines, fitness, finical advice, politics, news, insurance, etc., ranking is going to be next to impossible without satisfying E-A-T. There are many other websites affected as well.
Let's Explain E-A-T
Expertise – The Writer of the content needs to be a Pro in the field or subject. How educated is the writer on the topic matter? Do they possess the required expertise to talk intelligently and correctly about the subject available?
Authoritativeness – Likewise, the writer of this content ought to be an authority in The distance. This can be informed by applicable credentials, reviews, testimonials, etc. Furthermore, your content has to be detailed, honest, valid, and useful to the visitor.
Trustworthiness – The site where the content resides must be reliable, evidenced by things including website security, general site quality, inbound connection profile, testimonials, etc.
In Summary, your customers need to have the ability to trust your site and any Given bit of content on your own site. Bear in Mind; Google needs to provide the greatest possible outcomes for searchers offering the ideal consumer experience. You Have to Begin paying attention to E-A-T to reach success In your SEO and article advertising efforts.
How to satisfy E-A-T?
The start point is – design your privacy policy and About Us page on your website. After that, there are many ways, but as your website is new, just do two things, and your website is good enough to be trusted!
Trick 1 – Optimize Writer Bio and "Around" Pages
Let us begin by focusing on the "E" part of the new algorithm upgrade: Experience. You have to be revealing that everybody contributing to your site is a specialist on the subject at hand-if that is B2B content advertising or dog walking.
Why?
Since going back to Google's goal, they wish to give searchers the maximum quality details. You know that lots of CMS create web pages, such as writer bio pages, mechanically. Take the "display your experience" match a step further by optimizing the 'about' page of your site. This is not person-specific; It Is a complete rundown of your organization and lets your viewers get to know the public Supporting the brand.
Trick 2 – Social media
Users also engage indirectly satisfies this update. In case your audience is happy with your website's content, is interacting, or sharing, then Google will start trusting you. Earning relevant backlinks is also a great way, but or w a new website, it's tough.
Let's be realistic and factual.
If there are 5 members in your team, request them to mark their presence on social media (FB, Insta, Pinterest, etc.) and share website's stuff there. At least some audience is going to get driven to your website, and if they share your stuff further, or put comments, or spend good enough time on your pages, it's going to add to your website's authority.
In short, if your content is relevant, genuine, worth sharing, and linked to another authoritative website in your niche, it's enough for a new website.
However, once your website grows, you can take further measures to develop authoritativeness and trustworthiness further.
3) Optimize your meta descriptions and page titles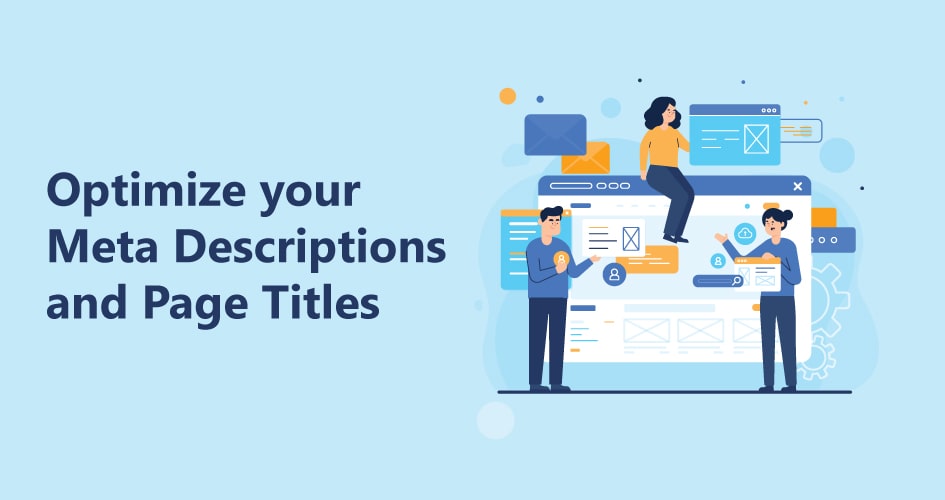 Well, understanding this portion is actually too easy, but yes, in the case of the page title and meta description, you do need some creativity!
Page Titles
Page titles form the crucial aspect of SEO, and this is why it's among the first three items on this list.
No matter which search engine you target to rank, Titles can make or break the game.
Here are the most crucial characteristics of an optimized page title:
Each page should have a unique page title that exactly describes the page's content (no fake boasting).

Be brief yet descriptive.

Help the visitor understand the page's purpose.
Home page title: Your homepage's can include your website's/business' name and other bits of crucial information, including the physical location of your business, core focuses, or offerings.
Description
Another crucial thing for the page description is the meta tag. It gives Google, users, and other search engines a perfect summary of the page's purpose.
Google may opt to show your description content as a snippet (position zero) for your page, and that can bring quick traffic to a new website.
In simple words, it gives a deeper idea of your focus content, and that's the reason you always hear about the benefits of inserting your keyword in the meta description.
The guidelines for writing an amazing and successful meta description are:
Provide a unique description for every single post, page, product, etc., of your website.

Avoid repeating the title in your meta description.

Ensure

your meta description

stays between 180-200 characters in size.

Don't stuff too many keywords, as that will reflect your greedy image.

Try to use the meta description as a weapon to 'advertise' your page to the users so that they tap on your page's title and visit your page. That will increase the Click-through rate.
4) List down your keywords and plan for the upcoming content
Okay, we've reached the spot where your skills are going to be tested!
Just don't start a website without a proper plan, but if you have started one and feeling baffled about finding topics to create content, then no worries, we're here.
You can use SEO tools like Ahrefs and Semrush to list out low competition keywords. We highly recommend you not to be greedy and start picking high volume and high competition keywords when you've just launched your website.
You need to understand not to go behind mass traffic. Instead, you should opt to bring little but targeted traffic as soon as possible.
If you're happy with Ahrefs, then just go to the "Keyword Explorer" option, enter the parent keyword, and then look for the keywords having difficulty from 0 to 5, no matter the volume is as low as 200.
What after making such list?
If you successfully make a healthy list of relevant keywords, congrats, you are occupied now! Start generating content around those keywords, and as the difficulty level of those keywords is low, you may find a handful of keywords ranking within your first month of SEO, most importantly, without backlinks.
But what if you fail to find more than just a few low difficulty keywords in your niche?
Now, here comes a master tip for you.
You can go to the "Site Explorer" option of Ahrefs and enter sites like quora. Com or Reddit.com or, we say, YouTube. Then go to the "Organic Keywords" option to see which all keywords these sites are ranking. You can apply filters there and find on which keywords these sites are ranking on top, which is relevant to your content.
If the keywords of such sites are ranking on top, you can definitely target those keywords, as Google ranks such forums and video sites mostly when they don't have much content to display for those keywords.
Here's an example for you
I visited my Ahrefs, entered Quora.com in the "Site Explorer" option, then went to "organic keywords," and enter the parent topic "Air Conditioner" in the filter.
And Boom! Just see this:
For keywords related to Air Conditioner, 4 out of the top 5 keywords of Quora.com ranking on the first position actually have "zero" keyword difficulty.
It means that if you have a fresh website based on an identical niche, you can start writing content on these 4-5 keywords, and high chances are there that your keywords start appearing in the top 100 straight away. Later, after a bit of handwork, you can even push them to the top 10! Best wishes from my side!
But remember, if you really want that to happen, then just keyword research and good content won't be enough. You'll have to follow the whole chain of SEO tricks mentioned in this article step-wise.
What is an SEO-friendly URL?
Firstly, we'll understand the URL's function and why it is so crucial to design your URLs perfectly for future SEO.
A URL describes a specific resource and its location on the web page using normal words. These words help the web page visitor know what the page is all about. Further, when they click on your link to the URL page, they'll expect to land on that exact page described in your URL.
It's actually as simple as I explained. Not just for humans, but An SEO-friendly URL is important for search engines to understand. If you want your web pages to perform well in search engine results, you should design your URLs easier to read.
An SEO-friendly URL looks something like this:
https://www.yourwebsitename.com/blog/nameofyourblog
By reading the URL right above, you already get an idea about whether clicking on this link will take you to the desired destination or not.
On the other hand, here's what a bad URL looks like:
https://www.mywebsitename.com/Folder/79KHIJ99FJIE
It's truly a not-so-friendly URL, and it's not clear what page you'll land on, and you certainly won't prefer wasting time here. Crawlers also hate such URLs.
Here are the core tips for constructing SEO-friendly URLs
Much can be said about constructing the right URLs, and many times, even conflicts take place regarding which URL technique is right and which is wrong. However, here, we're listing the most considerable and tested tips.
Make URLs secure – this is necessary (Use https: and not http: )

Keep URLs short, straightforward, and most importantly, meaningful

Use target keywords in a URL to describe your content

Use fewer folders in a URL for better results

Don't include dates in your URL to make your content look fresh always

Use lowercase letters in URLs
Keep this in mind; you won't be able to change your URL once your web page is published, so make it perfect. If you ever feel that changing your URL is necessary, then you will either lose all backlinks and keywords linked or ranking with that URL, or you'll have to redirect your older backlinks to the new URL, which is risky.
5) Create SEO friendly URLs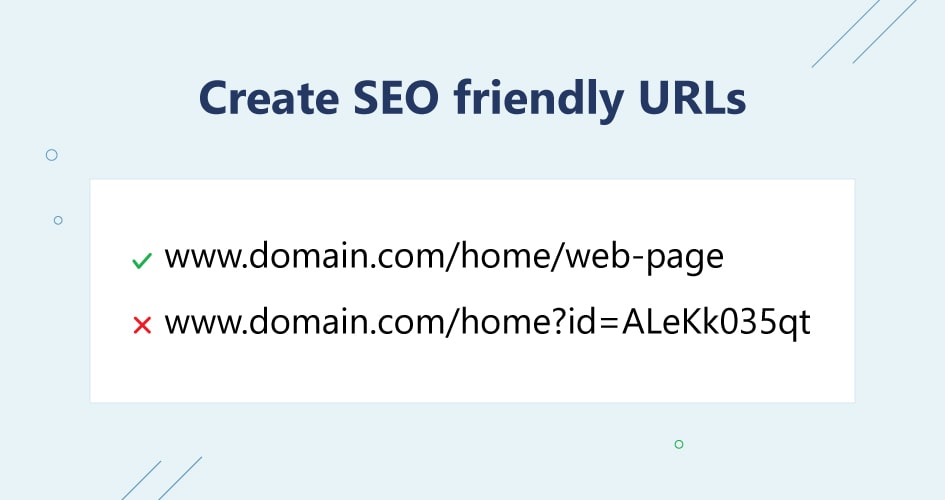 What's interlinking, by the way?
Basically, linking to your blog articles is known as interlinking. Most new bloggers do not do interlinking directly, so they can not drive more visitors to their old articles. They will bury them without fostering their search visitors to all those old blog articles.
When you are internal linking the ideal way- you can bring more research traffic to your keywords and will have a much better effect on the readers also since most readers will adore reading extra references when they are looking for something.
How to Interlink Your Own Blog Posts for Better Outcomes
Why should you think about interlinking to your articles?
Before we dive deeper regarding the utilization of internal links in your own blog, let us first discuss its advantages.
Internal linking might help you with these items:
Bring you more visitors from search engines:
You are definitely able to drive more visitors in the search engines such as Google, DuckDuckGo, Bing, Yahoo!, etc., once you are linking to specific pages in your blog.
Can rank better to the keywords:
Consistently use anchored texts' in your inner hyperlinks to rank high for your keywords. Are you aware you could rank high in the search engine results for those keywords that are connected with all the targeted anchor texts? Yes. You're able to use anchor texts inside your hyperlinks to get more results for your targeted keywords.
Could pass connect juice to old articles:
Next occasion, once the domain authority (DA) updates roll out, have a look at your blog articles, the pages that are connected more frequently will find a high D. This usually means you've got the ability to make your OWN page ranking for your site articles by connecting them!
Can boost page views:
No doubt, it is possible to bring more page views out of it. If folks find reading your posts interesting, they will definitely think about clicking on the inner hyperlinks to read further. This way, you're able to get more page views and so low bounce prices for your own blog.
Can make search engines crawl every page:
Search engine crawlers consistently love new content. When you are frequently Linking to your previous blog posts, you are creating them to crawl every single blog article on your site. This way, you can attract more research Traffic in the long term.
6) Profile creation (Social media and forums) will increase your reputation
A while ago, we were discussing how to earn authoritativeness and trust for your new websites, and by explaining the importance of profile creation for a new website, we're pushing the same motto forth.
The core reason behind making a website/author profile on various social media, forums, etc. sites is to spread brand awareness, and search engines do consider it as a ranking factor if you do it the right way. Just don't jump into the scene, as if you put your website's link in a bit wrong way, it can actually bring an immense negative impact to your website.
So, spend a minute here in understanding the right way.
But what's the right way, and what should be the frequency of making such profiles?
First of all, don't be too hasty, as anything "too much" in SEO for a new website certainly brings harm.
Profile creation is a supreme way to boost your domain rating and overall website ranking. However, you need to research a bit about profile creation websites, as if you make profiles on spammy ones, your website's reputation will be destroyed even before getting developed.
You really don't want that, right?
So, hunt for profile creation websites, having high domain authority and the least spam score. To get index better, you need to follow;
Add relevant description

The description needs to be somewhat different every time to make it unique as google eye.

Add full location, address

Fill in all information perfectly.

Use image, video, etc

Use your brand name as a username
But how does profile creation give thrust to your SEO?
It's all about gaining a reputation. Among all off-page SEO techniques, profile creation is a proven one, which is working well for years. The purpose is pretty simple.
You make a profile there, pass a link pointing to your home page. Remember, never point profile creation backlinks to your website's single pages, as it won't be beneficial anyway. It should strictly point to your homepage only. These links will pass link juice of that high authority website an pages to your homepage, and that's how your website Domain authority and Page authority will also increase.
We don't make profile backlinks just for reputation purposes. If you share attractive content there, you may get quality traffic. Luckily, you may find some forums or discussion websites strictly relevant to your niche, and new websites may drive even thousands of visitors per month through such websites; that's true.
Should you create Web 2.0 profiles in the first month of your SEO?
Web 2.0 websites are dual-interface websites, which let you not just create your profiles over there but also publish articles, insert links, and drive traffic and link juice.
Sounds pretty beneficial, doesn't it?
Web 2.0 has always been the center point of the discussions for SEO experts, and why now, after all, it's such a powerful SEO weapon. But remember, web 2.0 can make or break the game. It's all about using it for genuine and right purposes.
If you're wondering whether you're good enough for making Web 2.0 links in the very first month of your new website, then the straight answer is – you, you can, but there's a right way for this.
Ok, what else?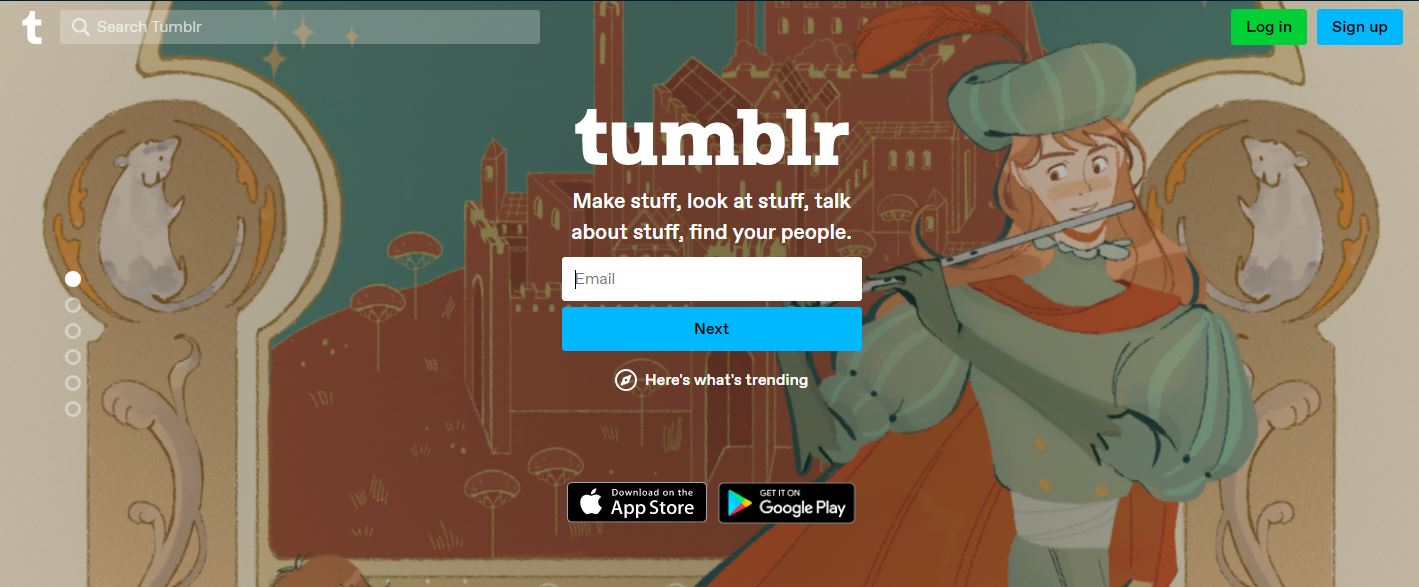 The key motto of web 2.0 link building is to allow you to create your own web 2.0 websites to build links. Creating and publishing blogs on different platforms like Tumblr, Wix, Weebly, Medium, etc., is easy. Create unique content that's worth reading, and link back to your new website naturally.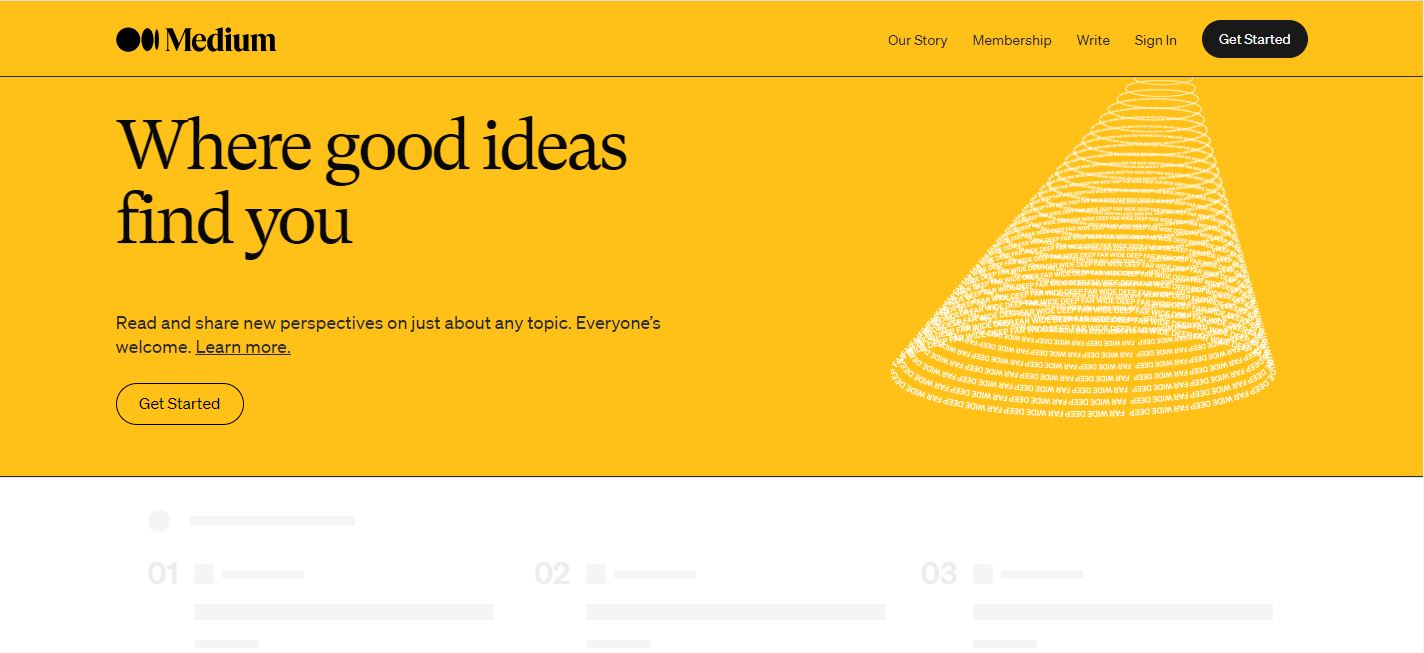 There are several benefits to this strategy. We've listed the key ones down there:
Safe:

Web 2.0 link building is safe and adheres to every single Google's link building rule, meaning you'll never get penalized. It's considered white-hat SEO.

Cost-Effective:

Web 2.0s don't ask for any payments from those who want to create sites there. It makes this method exceptionally easy on your budget. It won't require a penny to write and publish a blog on a site such as Tumblr, and you still enjoy authority links as Tumblr is your host.

Multiple Links:

Perhaps the most considerable benefit of web 2.0 link building is free linking to your website many times across various authority sites. Besides that, you can link to it on the same site by generating just a different piece of content.
7) Add a breadcrumb menu to the website's internal pages
If users have to devote a lot of effort and time to finding content once they are on your Site, that's not the right user experience. While search engines may locate content by adapting links from elsewhere or looking into your site document – ordinary users can't locate all of the content of your Site if it is challenging to navigate.
Hence, it's a great idea to make certain your website is easy to navigate and one of the best methods to do this is to encourage breadcrumb navigation on your website.
What is Breadcrumb Navigation?
Simply put, a "Breadcrumb" is secondary navigation that shows where the consumer is on a given site and permits the user to go backward and forwards readily by clicking hyperlinks placed in the Breadcrumb navigation.
Breadcrumb navigation is a "Trail" to a particular page from the home page, and the user may follow the path to go"Up" a segment and discover his way around the website for more information or to find the info which may otherwise be helpful.
Normally, large websites with plenty of segments, content, product pages, and class items are present use breadcrumb navigation to categorize all of the content pages, all of the product pages, besides all the other pages together to let the user quickly jump from one part to another and doesn't feel lost trying to locate his way within Site.
Advantages of Breadcrumb Navigation: How it Affects SEO of a Site
Now you may wonder exactly what will be the search engine optimization benefits of implementing Breadcrumb navigation on a website.
When there are no direct search engine optimization advantages of getting breadcrumb navigation in your Site, there are a few indirect benefits that help enhance the total user experience of a site if it has several pages, segments and also the consumer finds it hard to browse through all of the content only from the primary navigation menu.
Following are a few of the benefits of implementing Breadcrumb navigation in your Site
Fantastic User expertise and Usability: Navigation breadcrumbs improve usability and enhance the user experience of a website. It encourages the consumer to click those links to find out more information that's much like the person he is now reading. It aids in creating the consumer "Stick" more to your website, "Discover longer" rather than leave your Site just after navigating one page.

Even better SERP Structure having breadcrumbs implemented the ideal way occasionally contributes to breadcrumbs in Search results, which leads to more clicks and boosts the click-through pace.
Does Having Navigation Breadcrumbs Directly Impact Google Search Rankings?
Does Having Breadcrumb Navigation Gives Your Site a Ranking Boost? The solution is NO. It doesn't provide you a rank boost.
Having Navigation breadcrumbs on a site doesn't necessarily mean it will automatically rank greater or greater compared to its competitors.
But it's a frequent observation that sites that have Navigation breadcrumbs have a tendency to perform better in the long haul because the consumer experience of consumers is much better and long-lasting, in comparison with a website that doesn't encourage navigation breadcrumbs.
8) Track your websites using Analytics, Webmaster, Ahrefs, and Semrush
Earlier, I mentioned one thing – a new website is like a newborn baby, and besides nurturing, you need to take a lot of care. Now, when you kick your SE and content-related proceedings, you need to keep a super-sharp eye on what are the effects on the website. The effects can be negatives also, and yes, positive also if you're doing everything smartly as mentioned in this guide.
So, how to track your website, and when?
Well, you need to note down the data every day. You may be pondering what sort of data. No worries, as we're going to explain the same down there.
Google analytics
If you don't know about Google Analytics, haven't installed it yet on your website, or have already installed it but never tracked your data, then let me tell you, not just it is highly informative, but also the basic features are easy to use and understand.
If you are, or just going to publish your posts on Google, you may be wondering about a few things:
Where do my visitors live?

How many people visit my website?

What websites send traffic to my website?

Do I need a mobile-friendly website?

Which pages on my site are the most popular?

From where did my converting visitors come and go on my website?

What marketing techniques drive the most traffic to my site?

What blog content do my website's visitors like the most?

How many visitors have I turned into leads or customers?

How to improve my website's speed?
Guess what? Google Analytics is the single base of all the answers, and tracking your website's proceedings is going to be fun on analytics.
By the way, a thousand things can be done with Google Analytics, and this tool is so deep that there are specially dedicated courses available on the internet.
Here, as we're concentrating on SEO for the first month of site launching, we'll just explain you how to use it for tracking purposes, as you can already get the info regarding setting up analytics when you make your Analytics account.
Now here, the game begins.
Once you complete setting up your analytics account by setting the Analytics code in your website's root folder, it's time to begin tracking your website.
See mate; there are hardly any chances of getting organic traffic in the first month of your website launching. However, there are several other things to track.
Site speed:
everybody faces at least a bit of issue regarding the speed of the new website, and you may also struggle with the same. It takes time to understand which codes or plugins to use, what to minimize, what to purge, etc.
On the left menu of Google Analytics, you have to tap "Behavior," and then comes the "Site Speed." You won't be able to just know the current site speed but also reveal how fast or slow your website was on which date. You also get options for Page timings speed, Suggestions, User Timings, etc.
If you feel your site speed is not what you actually want, you can put a few efforts to get it right, and by the way, Google Sped Insight itself provides you with the list o issues, which you can consider and mend.
Top keywords & Top pages:
As we said, gaining organic traffic in the first month of the website launch is extremely tough, but it's true that your keywords may start appearing in the top 100 ranks after just a few days!
If you are able to drive some referral, social, or third-party traffic, then also Analytics will show the stats and help you determine the right direction to work.
For example, if you find that traffic is coming from Quora, then at least you can plan further to maximize that traffic source. Also, it will show you which are the pages the visitors are hitting.
Ok, now if accidentally a keyword or two manage to organically rank, and drive at least a handful of traffic, then also you'll be able to track their behavior and figure out whether the content that you've written is able to impress and engage them or not.
Tracking bounce rate and visit duration:
We are covering all aspects, and being good wishers, we really wish that you start getting at least a bit of traffic in your first month itself. Now, what if you see 5-10 people visiting your site? What's your next job?
Well, you need to concentrate on their behavior from now onwards to at least a few months till your website is fully stable and attracting enough traffic.
Start tracking your bounce rate. If it's not going that well (by which we mean – hitting a high percentage), you need to interlink your website's pages. Try to maintain a bounce rate of below 50%, and if it's increasing high right in the first month, it may give Google a bad indication that your content isn't worthy.
Besides interlinking, you can make your new website's visitors jump through other pages bypassing outbound links to high authority sites as well. If you are in any sort of affiliation, then do check your affiliate dashboards as well to figure out whether any of those few visitors are showing interest in clicking your affiliate links or not.
Webmaster Tool/ Google Search Console
First of all, no worry, as both the terms mean the same. If you ask any SEO expert who is the most important SEO tool, most of the time, you'll get just one answer – Google Webmaster.
So, what's so cool about this tool, why is it so popular and trusted, and finally, what kind of info can you expect from this tool?
After launching your website, you'll see the first few movements of your website's keywords in this tool only. The setup is simple and identical to the process you follow for setting Google analytics.
It includes numerous tools that give you insight into what could be affecting its rise /decline in the rankings, how your search result appears, and how to fix possible issues that could lead to your website's decline.
Why Use Google Search Console?
This tool is invaluable for anyone looking to monitor:
Malware and spam issues

Content accessibility

Their site's performance in search results
It's truly a one-stop-shop to keep your website in front of potential visitors.
Search Console saves from Google Penalties
.
One of the huge advantages of utilizing Google Search Console is the insight it provides you to penalties you might have from the website and how to repair them.
Google penalizes websites that violate their own guidelines to what they believe very good content. You will find several penalties Google enforces through their algorithms and individual reviewers. Included in these are:
User-generated spam problems: These

including spammy links present in your comments section

General spam problems: These

including doorway pages and thin content

Incorrectly structured data:

In this, a website inflates the data on a given section to try to acquire a rich snippet

Hacked content spam:

It's caused by a breach in your site

Unnatural inbound links:

These include links coming from spam sites to your website

Unnatural outbound links:

These including 404s, links to spammy sites, or incorrect redirects
If Google finds and penalizes your website to get at least one of these problems, Google Search Console will inform you and provide advice to correct those problems.
By way of instance, the Manual Actions page lists topics that individual reviewers have discovered with your website. Additionally, it demonstrates how you can correct those problems. When you have, you may file a reconsideration petition to possess Google to review your website again to raise the penalty.
Search Analytics
The first subfeature is Search Analytics that includes tables and graphs tracking clicks, click-through rate, impressions, and position for the search queries (keywords) that lead people to your website. Most importantly, you'll start noticing at least a few in your first month; there are high chances.
You can tap the table to change the sort order, and also look at data for countries, devices, pages, and search type and attain good insight into how your site's visitors search for and find the results of your site.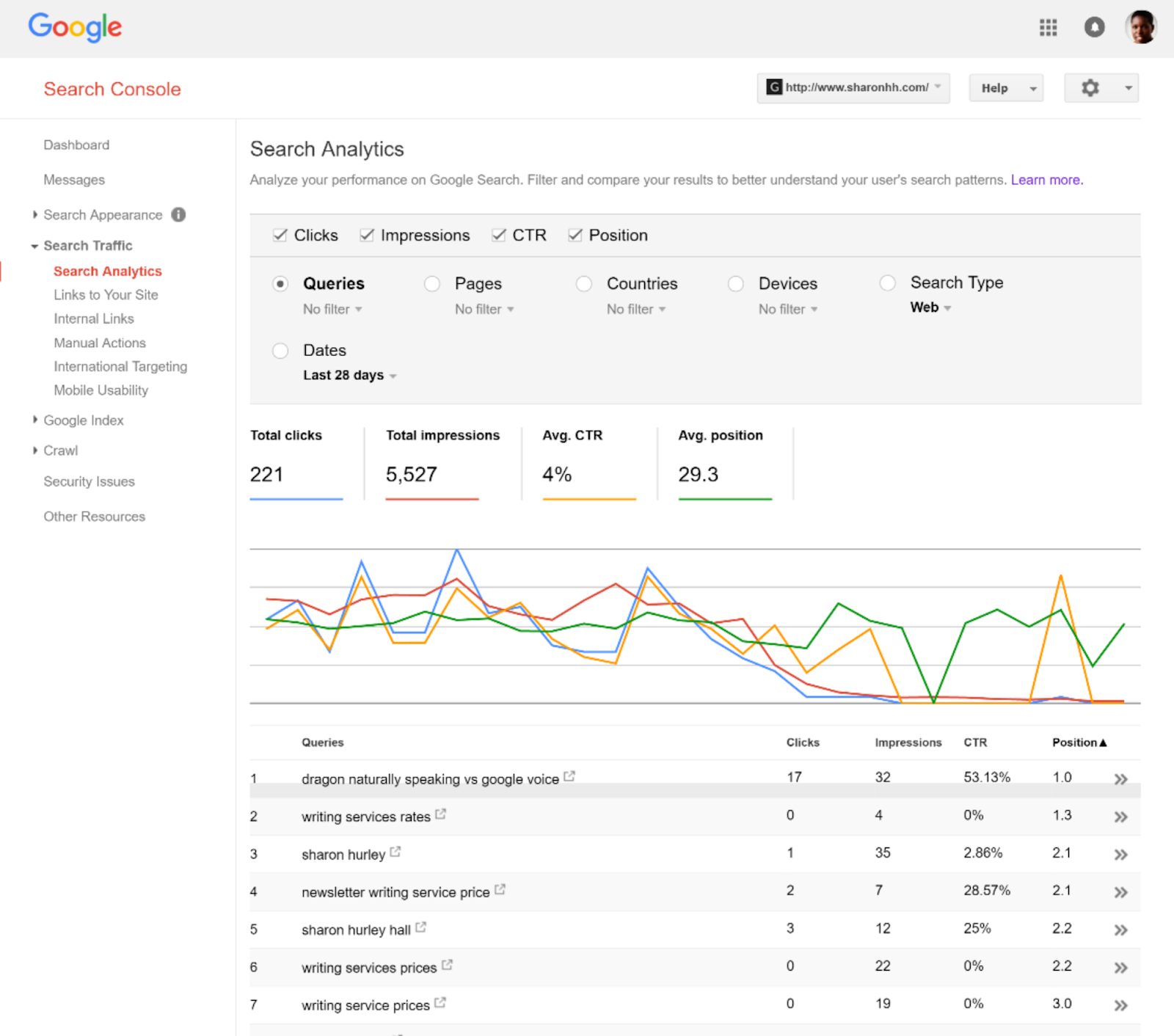 Keep in mind, the stats aren't always similar to the data you find in your Google Analytics account, and that's because – these two tools may be showing reports on different types of traffic, while there's some overlap.
Ahrefs
Oh yes, now comes the big gun, named Ahrefs, and this is the ultimate best tool to track your competitors and not just understand their strategies but also import their ideas and implement them on your website.
We already explained a bit about it in the fourth step, right?
Yes, it's a paid tool, but it's entirely worth it. We can call it a bank of ideas, and if you spy your competitors well using this tool, you can give wings to your website!
By the way, there's a whole list of things that only Ahrefs can do. This tool is a boon to new websites, as using this tool only, you get proper ideas of using less competitive keywords and bringing quick traffic to your website. Most importantly, the data provided by this tool is more accurate than any other SEO tool.
Three of the main features of Ahrefs are Site Explorer, Keyword Explorer, and Site Audit.
How to use Site Explorer: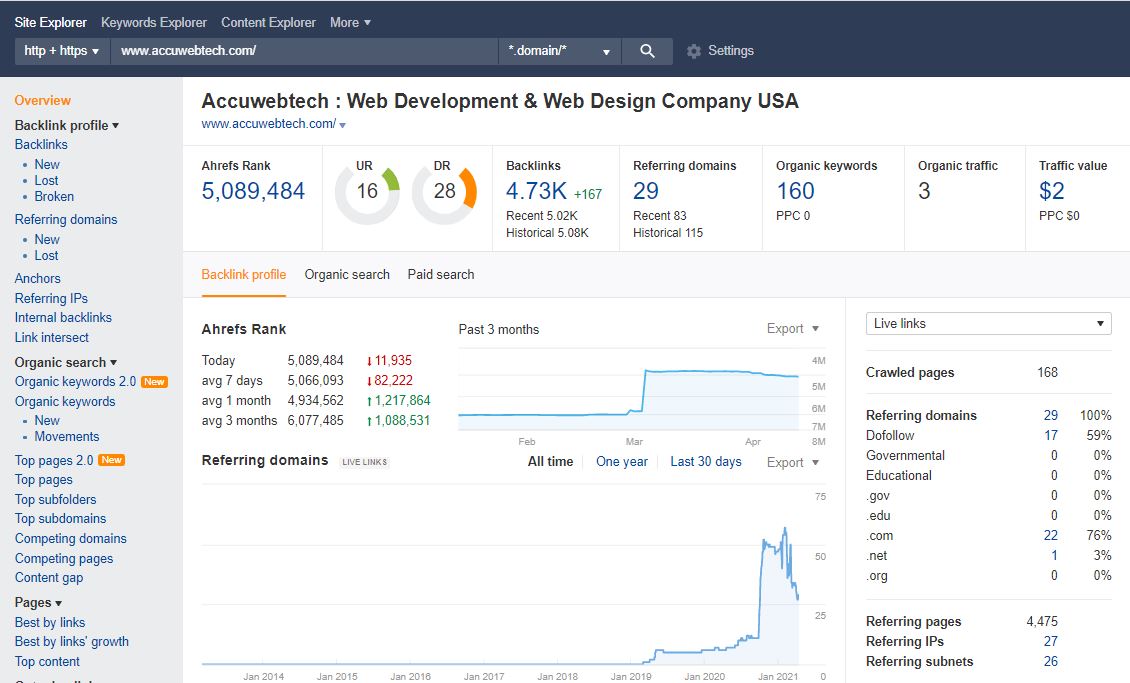 Site Explorer, as the name suggests, this feature is for analyzing the data of a site, subdomains, or even a single URL. Not just yours, but you can pick your competitors' URLs and check them using this feature. It will give you data like backlinks, referring domains, keywords, top pages, traffic source, consistency, and a lot more. You Know what? That much data is more than enough, actually!
How to Use Keyword Explorer:
The Keyword Explorer feature of Ahrefs is very easy to use, and you just need to drop any keyword, and boom, you won't just get to know the search volume (how many people in any specific country search for that term in Google, and various other spots), but also keywords difficulty, which means how challenging it would be for you to rank your search result with that specific keyword.
For the beginning, you can go for keywords with 0-5 difficulty and not more than that. However, if you're a very patient person, then go for great difficulties if you want, as it may take years to rank such keywords.
But what if you fail to find any low difficulty keywords? Well, do you remember that "Quora scene" that I explained in the fourth step?
By the way, Ahrefs hardly lets you down, as when you enter any keyword, it provides you with a list consisting of thousands of relevant keywords, and you'll certainly find at least something of interest. Not just that, you can use special features to squeeze down your searches.
Website Audit:
We already discussed a bit about possible issues of a new website, which every single site owner (or the SEO expert) has to eliminate in order to save the website from diverse effects. Yes, search console does mark the issues for you, but it just marks the issues and doesn't give you any side ideas to rank faster, but Ahrefs does.
No matter how confident you are regarding your new website's health, use the Site Audit features, and you'll definitely find some issues which need to be looked after. To know more about this feature and what all data does it offer, tap HERE.
Semrush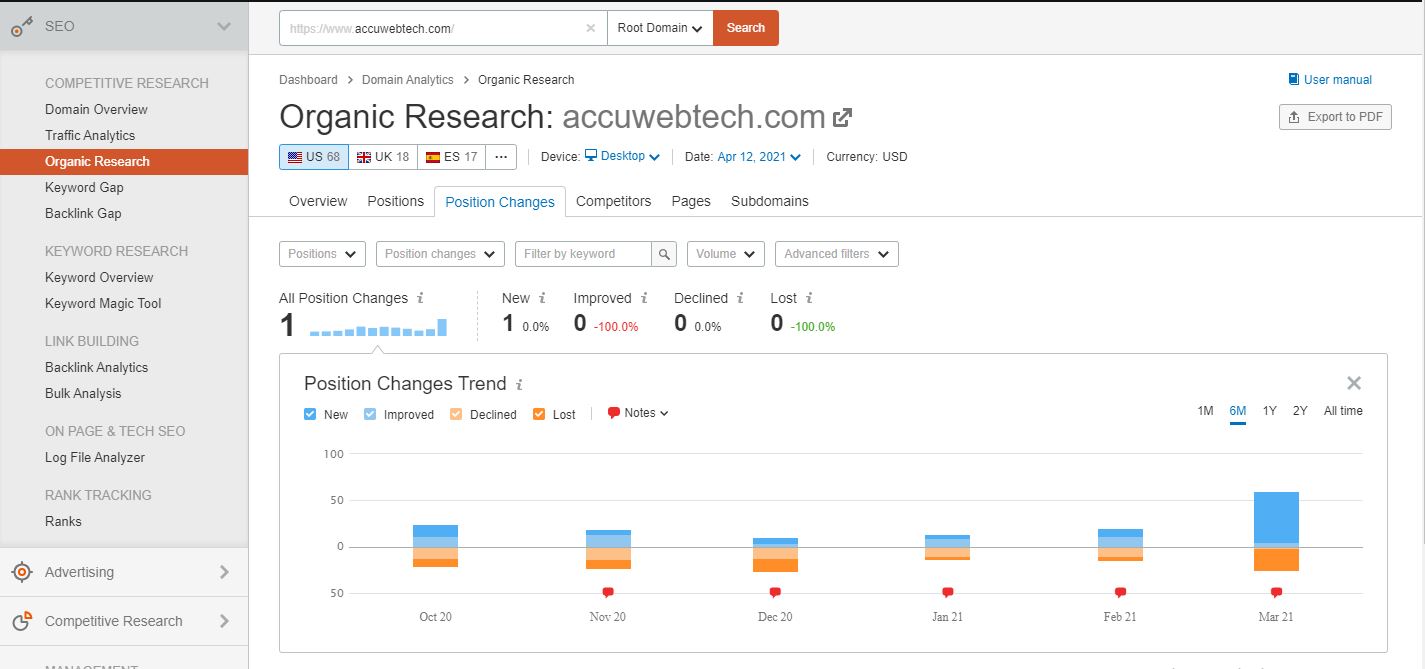 Last but not least, here comes Semrush, which is the biggest competitor of Ahrefs, and this tool also shows some tremendous metrics. There are so many features, and most importantly, most of them are truly valuable.
The "Domain overview" feature is amazing, and after you drop your domain there, you can see which keywords are ranking, which pages, ranking distribution, and pretty much like the data that Ahrefs displays in its "Site explorer" feature.
Here, one feature that wins hearts is the organic research option, where the movements of keywords are displayed in such a sophisticated way that anyone would love it. You can see how many new keywords appeared in the top 100 searches, how many inclined/declined, and how many of them got lost.
Ahrefs also has a similar sort of feature, but yes, Semrush is doing it the better way!
Both tools are somewhat expensive! Which one to choose?
The opinions are divided about which tool is actually the best among the two. However, considering overall accuracy, features, and convenience, we keep Ahrefs ahead of Semrush. The biggest benefits of using Semrush over Ahrefs are faster indexing of backlinks and faster keyword listing.
We've been using both tools for years, and we've seen their whole evolution. We can claim that Semrush's crawler tracks backlinks and keywords a bit faster than Ahrefs.
However, if you talk about keyword planning, Ahrefs is much better, and as keyword planning is ultra crucial for any new website's SEO, we'd recommend using Ahrefs, in case you're able to afford just one out of these tools. However, if you do have the budget, then both tools are worth buying.
9) Interlinking everything to the deepest point
We've kept interlinking at the 10th spot of this countdown because of reason that you can't begin interlinking straightaway. You need at least a few pages published to start interlinking them.
This trick is perfect to use at the end of the first month of your new website's SEO when you've already published a handful of pages. Just don't do it blindly; you have to be genuine here.
So, what exactly is interlinking?
Internal link happens when you connect one of your pages to a different page of your website.
In SEO terms, internal linking is a web page using a hyperlink that contributes To another page under precisely the exact same Domain, like this URL to an Accuweb tech's home page.
But, it must also be noted that internal linking shall not be Overdone. Link only when it's necessary, don't join for the sake of connecting since it will backfire!
As you can see, all those gloomy hyperlinks within this site, 90 percent of them, link to other pages under precisely the exact same domain name.
Among the greatest examples of inner linking could be understood from Wikipedia.
For each and every entry on Wikipedia, they construct so many inner hyperlinks to other results. It will help Google and other search engines know what the other pages are all about, and this does ensure healthy and consistent crawling.
If you'd like a more in-depth comprehension – continue reading. You will get your Head around the advantages of inner linking as we move along. If you want To dig deeper into the overall facets of internal linking, this informative article says it all.
Benefits Of Internal Linking
The creation of internal linking is a significant element in on-page search engine optimization. One decent thing about internal linking is the website owner has complete control over internal links, so it's vital to get the most out of it.
Apart from the search engine optimization values, internal linking is also valuable to a user experience.
Your task as an SEO marketer is to create a friendly website structure and utilize internal hyperlinks to direct both search engines and visitors to the most precious pages of your site.
There are just two primary considerations you want to make when considering your website's internal link structure:
Clients: Get users from wherever they are to wherever they want to proceed as effectively as possible

Search Engines: The way the search engine will view the internal links on your website and the way they are going to pass their authority.
When you master internal linking, your entire site stands to benefit massively. This even increases your Domain's authority!
Thus, let's take a peek at the ten valuable areas of internal linking which can help you reach success along the way when done right.
Establish Architecture Of The Website
Allows Readers To Navigate Websites
Helps Google Crawl Your Site Easily
Back Up A Point You're Conveying
Spread Link Equity Throughout Websites
Builds Your SEO
Increase your domain's authority
Rank For The Right Keywords
Keep Readers On Your Website
Send Traffic To Older Posts
The final word about interlinking
SEO has rapidly become one of the most crucial factors in nurturing any online business.
In case you haven't got a proper internal linking strategy for your new website, you're probably missing out heavily on rankings and potential customers. It won't be wrong to exclaim it the most neglected area of e-commerce SEO. By following the internal linking technique carefully you can make big ranking gains.
You know what, just begin interlinking, and in the upcoming months, when you'll publish more pages and keep on interlinking them with these existing ones. You won't even know how strong your internal linking web will be and how many benefits it will bring!
The Conclusion
Most importantly, spamming is taking place on a large scale, and doing SEO without getting in touch with spamming is tough.
In many cases, you may be spamming without even knowing that you are actually spamming! Yes, you are innocent, but still, you'll face those rough consequences.
that's the reason we recommend you not to fall not a lot of "fancy try work" when your website is new and stay on the right path. If you follow those ten tricks for your first month's SEO, we're sure that you'll be able to see positive results right away. However, your content should be great. Otherwise, results may not come.
By results, we don't mean 500-1000 keywords ranking in Google or surges of traffic, but we mean a steady start and a strong foundation for the SEO of upcoming months.
However, if you're not that confident about your SEO campaign, you can directly contact our SEO & Marketing EXPERTS (16+ years experience) for tips or solutions!