No matter if your business is small or targeting to grow fast or a humongous enterprise exploring new opportunities and options, selecting the perfect Commerce platform for your eCommerce store certainly isn't a decision to be considered lightly.
Magento, Shopify, and BigCommerce are currently the big names that pop up when you search for the options. The hot topic going on (which unfortunately is confusing a lot of people) is Magento vs. Shopify.
So, what's better?
Well, it's a huge decision, and our experts have gone too deep to bring you the best recommendation. Both are huge players in the game, and there are so many factors that make them control a huge percent of the current market share.
Most importantly, both are continuously showing innovation, and that actually makes the decision even more difficult.
Now, let's begin the discussion – what's the best eCommerce platform to rely on in 2021!
Magento vs Shopify – The Ultimate choice in 2021
Magento Overview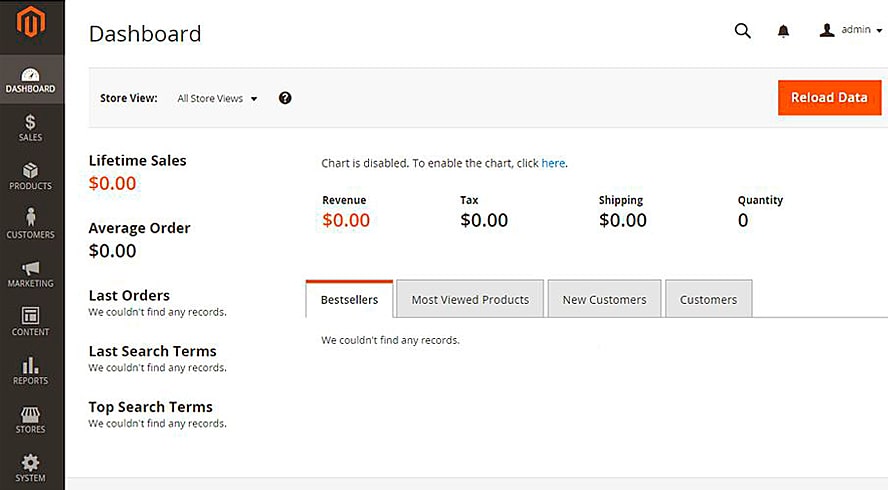 On August 31, 2007, the former owner of Magento, Variant, released the first Magento beta version. It has thriven continually since then and now, become one of the most appreciated eCommerce platforms.
eBay bought 49% ownership share of this company in February 2011, and after a while, eBay sold it to private equity investors, and later on, its total value of this eCommerce platform transformed $700 million.
Magento 2.0 was introduced in 2015, and we experienced numerous improvements; and after multiple updates since then, Magento has shown continuous improvements.
The latest version is Magento 2., released in November 2020, and this update brought a few sweet changes like PHP 7.4 support (tested), default 2FA (Two Factor Authentication), MySQL 8.0, Elasticsearch 7X, etc. Also, the Web Set-Up Wizard was completely removed.
However, the early version of Magento had a lot of bugs, due to which it received criticism as well, but with the pace of time, the majority of those bugs are fixed.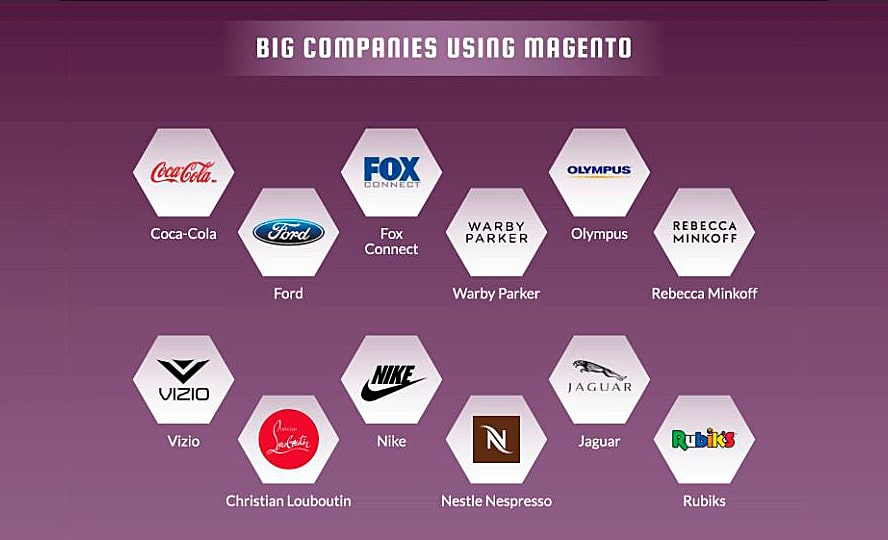 Using Open Source technologies, Magento ranks 8th among all websites currently on the Entire Internet with more than 196,000 live websites.
Magento is a highly trusted brand with humongous customers, including multinational companies like Fox Connection, Coca-Cola, Ford, etc. This sweet open-source e-commerce platform is narrated in PHP, and it has been in existence for more than 10 years now and meets the requirements of any company searching to consolidate its presence in the online retailing market.
We certainly can't underestimate Magento E-Commerce's power and offerings. Explaining the excellence further, more than 200,000 online stores are reaping the benefit of the platform. Not just the big brands, but Magento is a highly trusted platform for small E-Commerce operations as well.
This software is free to use for basic level requirements. For enterprise use, there's a paid pricing tier present as well. When considering any Magento ratings and reviews, the title may be Magento 2 review mostly. It uses numerous other PHP frameworks, including Symfony and Laminas.
Shopify Overview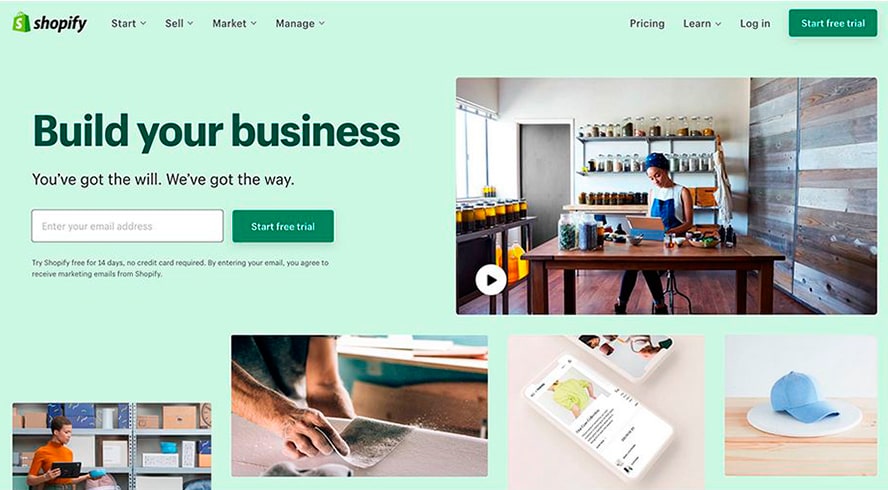 Shopify is among the perfect places to kick-off your e-commerce business. Even though you don't have any previous knowledge or digital skills, Shopify seems to be perfect for you. Want to create a successful personal online shop? You can depend on this ultra-simple tool.
To put it straight, Shopify proves to be sweet for an online platform for a wide range of eCommerce types. Besides goods, it's amazing for service sellers as well. Both local shops' owners and more prominent companies have appreciated this platform.
Right from choosing among free or paid themes to customizing it as per your personal needs, using Shopify proves to be a great pleasure.
It permits you easily accept payments, track your orders, and perform numerous functions needed to push your online store forward.
After knowing all that, Shopify proves to be having almost everything, but we shouldn't tap one of these without a comprehensive comparison.
So, shall we dive deeper?
Magento vs Shopify Features: Whose car is leading the race?
Magento Features
"It's a monstrous platform" – one of the prominent reasons that make Magento a monster in the eCommerce platform market is its huge range of features.
With other straightforward platforms such as WordPress, you have to install so many extensions, and that really costs tons of time besides the worries regarding the compatibility, updates on plugins, support, etc.
Flipping the coin, Magento reduces a great amount of work for users. It combines all the functions one may need into the core system. It's a strong point against competitions, and these out-of-the-box features make Magento highly dependable.
If we start making Magento's feature list, it will never end, so we've divided the lists as per segment, helping you in understanding the main offerings of Magento. So, here is the overview:
1) Sales & Ads Channels
Review performance besides detailed ROI reports within Magento
No need for extra manual steps. Automatically sync catalog changes.
Automatically sync inventory, catalog, and order information across Magento and Amazon.
Reach more shoppers through Google Smart Shopping campaigns
Create Google Ads accounts and Google Merchant Center from Magento Admin
2) Inventory management
Create pre-defined product templates helping you n rapidly setting up new products with a given set of attributes.
Create simple, configurable (e.g., you can select the color, size, etc.) bundled, virtual, downloadable, grouped products.
Process long-running B2B catalog updates in the background, permitting you to work on other admin tasks simultaneously.
Automatically assign products to given categories as per their attributes.No manual adding of products to the category anymore. Just set up attributes quickly for your items.
3) Fantastic Pagespeed
Technically saying, Magento doesn't have a fixed page speed. Speed depends on numerous factors, including the server level. Besides that, consider that downloading and running various plugins can highly affect your site speed. The elements that you put on your website, including videos and images, also affect site speed.
Undoubtedly, in the upcoming time, we'll notice Magento growing bigger and bigger, and we can also expect features to expand. Keeping feature-richness aside, Magento has the potential to design your own features and solve highly complex issues obstructing your business.
4) Check-out and payment
Qualify for the easiest stage of PCI compliance (SAQ A-EP or SAQ-A) as per the method of your payment.
The instant Purchase option is there, helping you boost conversion rates. It uses shipping information and secure payment to speed checkout. What else is needed?
Display an order summary along with product's images in checkout. Show shipping and tax estimates in the shopping cart;
Integrate with numerous payment gateways, such as Braintree, WorldPay, Authorize.net, PayPal, CyberSource, etc.
5) Reports and analysis
You can begin with over 100 best practice commerce reports. Besides that, you get an awesome dashboard.
You enjoy automated & regularly updated reports. Also, you're permitted to access and analyze data anywhere.
Magento's report builder helps in executing advanced analyses.
The luxury of exporting your visualizations and data outside of the platform.
6) Mobile
Mobile responsiveness is an ultra-crucial factor to consider for anyone starting an online store. A slow loading and sloppy website on a mobile device mean a huge percentage of visitors will certainly abandon the site.
Out of the 12 themes Magento provides, 10 are mobile responsive, meaning that your website will automatically resize itself to conveniently and perfectly fit the viewing device when someone views your website.
If you've decided to employ a Magento developer for the development of your online store's appearance, then you need to spend some time in
If you have chosen to employ a Magento developer to assist with your online store appearance, do spend a little time discussing AMP (Accelerated Mobile Pages) and mobile responsiveness.No matter you don't understand the technical stuff, but you should at least know the importance and benefits.
7) SEO
Good SEO is such a crucial feature that can't be foreseen by any online store owner. With the right SEO practices, your Magento eCommerce stores will successfully rank high in the results pages. We'd like to recommend 4 highly useful SEO features that you can gain from the platform apps store.
Add alt text to images
Page edit of title and description
Site speed checks
SEO issues scan
Shipping and Tax
Offer free shipping and percent, buy X get Y free discounts, and fixed amount.
Integration with global shipping carriers.
Automatically calculate tax for negotiations and transactions in the European Union with VAT-ID validation.
Support fixed product taxes, like DEEE/WEEE in the European Union.
Shopify Features
Scaling your e-shop using Shopify is so easy because it provides you some amazing eCommerce tools and features. you will have over 1,200 apps in total to choose from while using Shopify website builder.
Let's roll our gaze over some of the most important ones:
1) Variety of Payment Options
It brings such pleasure – Shopify has over 100 payment options to offer you. So, there are plenty of options, including Amazon Pay, PayPal, Apple Pay, and a few most popular ones.
Based on our research, these seemed the essential tools one needs to know about. Also, you should note that these were just three options out of 1,200 offered by Magento!
2) Abandoned Cart Recovery
Shopify automatically sends you a message, reminding you whenever a shopper adds anything to his cart and abandons without checking out.
3) Multi-Channel Integration
Multi-Channel Integration is among the best ways to consolidate whether you're noticed or not. Since people are searching products in numerous channels, including eBay, Instagram shop, Facebook store, Amazon, and so on, you can conveniently integrate them into your Shopify eCommerce and easily sell in not just one but numerous platforms. How amazing is that?
4) Variety of Templates and Designs
Previously, in this Magento vs Shopify review, we mentioned that you could select a theme or template and then conveniently modify it as per your preferences. Besides that, you have a great scale of choices based on the industries. Here they are:
Home & Garden
Jewelry & Accessories
Food & Drink
Clothing & Fashion
Art & Photography
Furniture
Electronics… and even more
Besides that, you can use a filter to search for themes and free/paid options, layouts based on products' style, number, homepage, product page, etc.
Shopify has over 60 themes to offer, and out of them, 10 are free, and around 50are paid, costing from $140-$180.
No worries about other devices, as each of the layouts is generated to adjust to the tablet and the mobile screen automatically. Shopify takes so much work off your shoulders, and that's truly remarkable.
You don't enjoy the highest number of themes to select, but most importantly, the majority are sleek, modern, and attractive. So, having fewer high-quality options is much better than more low-quality templates.
Hence, Shopify helps you in finding the perfect option for your e-shop and makes it appear attractive.
5) Great Speed
Undoubtedly, speed is among the most important aspects, which is required not just while building a website but also beyond launching your eCommerce site. After all, you might lose a huge percentage of customers in case your page takes forever to load.
Now, it's clear that you shouldn't face this issue with Shopify. The speed results are really amazing, and 1.47s is all a basic Shopify website consumes to load.
You should keep in mind that speed depends on the server you're connecting to and on your geological location. Just a straight tip – stay closer to the server!
In case you doubt that your page's speed isn't what you want it to be, then in Magento vs Shopify review, we're highlighting some tips:
Choose a minimal theme. It's something highly foreseen, but even your theme choice highly impacts your site speed. Hence, before moving further into constructing your site, pick the theme and then test the speed by running the preview page on the Google Pagespeed Insight to ensure it won't hinder your success in the future.
Optimize your images. Uploading images without optimizing them clearly seems a no-brainer. Try a dependable online tool to optimize your images. you'll save much space that way. Hence, your website will load quickly.
Manage your apps. In case you've installed some apps that just "stands" there doing nothing special, you need to uninstall those straightaway. Also, the apps that your website don't increase loading team.
Decrease the number of HD images. HD and high-resolution images such charm to your website, but it actually has great side effects. They stop your speed significantly. In case you can't roll on without high-resolution images, then at least pick out the necessary ones, and delete the rest.
So, those were the major tips we believe all Shopify reviews should surely include. You should always put the speed at the top of considerations.
6) 99.98% Uptime
We didn't notice any Shopify reviews putting forth complain regarding the uptime. To provide you with 100% genuine information, we created a Shopify website and included tons of others in our testing. After that, we checked the uptime.
We're happy to say – results came out pretty good – 99.98% uptime, and our website was 0.02 of the time away from customers' reach.
In this case, when 99.98% is the uptime of Shopify, your website won't be reachable for 17.3 seconds per day, around 2 minutes per week, and in one year, just 1 hour 45 minutes.
Hence, if you decide to roll on with Shopify, this aspect will certainly encourage your choice.
Mangento vs Shopify Pricing: What's better for you?
Megento pricing

How much would it cost to run an eCommerce platform? Well, it highly depends on the complexity and requirement of the organization.
Magento provides one attractive option named Magento open-source, which is available for convenient free downloads. Ok, the software is free, but there there are various other equally important imminent factors that are and aren't free, such as; hosting, web development, and other additionally included services.
If an enterprise uses Magento edition, it will ask for a cost relative to the requirement for such an enterprise merchant. It's crucial to request an individualized breakdown quotation if you want to deeply understand the basics of Magento pricing. The totaled pricing cost depends on the average store order values added to the annual online revenue.
Starting from $22,000 and stretching to $125,000 per annum, you can enjoy their provided unbeatable flexibility and numerous added advantages not readily available by several other eCommerce platforms.
Further, the service provided to enterprises differs extensively, depending on the requirements of each enterprise.
Besides their pricing, other factors are needed to run a fully functional site, and Magento offers that. You enjoy the box sort of solutions and pay a running cost which is linked with them. Let's get deeper now!
What are Magento's Additional expenses?
Third-Party Extensions Costs
there's no shortage of third-party extensions on the web, and if you need something convenient and useful, then certainly, you have to pay. Considering $100 as average, it's going to cost you around $1,000-$1,500 just for extensions in case you want to install around 10-15 extensions.
Domain, hosting, and SSL certificate costs
While using Open-source eCommerce platforms like Magento, you can't avoid such sort of expenses. A Virtual Private Server is a decent option if you plan to build a robust Magento store that runs smoothly and loads fast.
Going with the shared hosting may not bring you that good results. VPS Magento hosting may cost you from $60 to $300 a month. Besides that, you have to buy SSL certification and Domain, and we estimate the expense of $10 to $50 per year for that.
Maintenance and development
In a busy Magento store, there's much to do always, and these tasks may hold the purposes of troubleshooting problems, optimize your site, conduct new custom fields, update new features, etc.
They all require a specific level of tech knowledge and experience. You can hire a full-time developer to take care of these issues. $1500 to $5,000 is the expected cost, and it will vary depending on the workload and requirements.
Frontend and Backend Costs
While running a store on Magento, Frontend and Backend Costs certainly need to be considered. There are numerous tasks that you'll need to spend money on depending on your number of extensions, design complexity, and various other customizations that you aren't available on Magento Marketplace.
Around 2-4 months is what it consumes to finish the process of building the frontend and backend.
Shopify Pricing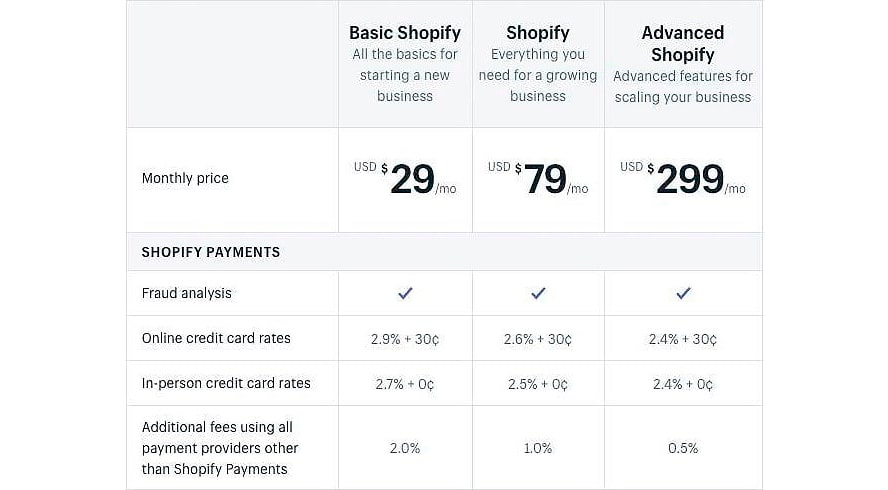 Finally, we need to have a gander into the Shopify pricing; we believe that you have been waiting for it. So, how much money would you shed to use Shopify's services? Here it is:
You enjoy every necessity related to an e-commerce website with each of these plans. The better plan you buy, the higher shipping discounts, and more options you're going to enjoy. You enjoy professional reports and extra gift cards with the Shopify plan. Besides that, you enjoy third-party calculated shipping rates as well as an advanced report builder.
You can first try your hands on Shopify by creating your page and look whether it's working on not, as you've got the 14 days free trial luxury. Hence, the Shopify website builder certainly gives you all abilities to scale your business.
Magento vs Shopify: Where you get better provides better customer support
Customer support of Shopify
You enjoy a nice variety of support options with Shopify. Yes, you get 24/7, and their FAQs win hearts! But these aren't your only options, and in case you prefer a visual answer, video tutorials are also available and using them, you can conveniently join free webinars.
For technical issues, you may night enjoy a direct answer from their support straightaway. In such a situation, you can share your problem on their forum. Support will reach you in a quick time.
In this way, Shopify does everything in its power to support you in solving your problem. You wouldn't get stuck with issues and lose clients over it. Shopify's helping hand is worth trust!
Customer support of Magento
As we know, Magento is a self-hosted platform, and that's the reason you don't get dedicated support here. However, there's a huge community of users bringing you a great level of support whenever you feel the need for assistance.
Just reach out to the Magento Forum whenever you find yourself stuck in a problem. In the forum itself, you'll find the answer to almost every problem faced.
You can also find a robust search tool on the humongous database, which consists of user-generated content (UGC) where Q n A is clearly narrated.
The bottom line is unless you aren't investing big Magento eCommerce. You are actually not going to get a dedicated support team to assist you.
Mangento vs. Shopify: Other Comparisons
Today, a consumer doesn't just look forward to buying a product. He expects an engaging and joyful shopping experience. Undoubtedly, both Magento and Shopify are pretty flexible and can meet the experiential demands of the online store visitors and deliver innovative interactions. That's how your conversions spike up.
Let's cherish which of these two eCommerce platforms, Shopify and Magento, prove to be suitable for a better customer experience. We've chosen the top 5 criteria, which are mentioned below:
Magento Vs Shopify – Customization and Flexibility
| Magento | Shopify |
| --- | --- |
| With Magento, you can fully customize the checkout experience and shopping cart. | In Shopify's possible to add new functionality development specific to brands, and $50 million is the min revenue requirement. |
| Businesses can utilize 100% customization capabilities of Magento to deliver the exact experiences their customers expect or demand while differentiating their brands. | Shopify has some APIs and templates. Hence, there's a finite set of functionality that you can change as a merchant. |
| Magento integrates with all existing systems (e.g., PIM, AMS, ERP) and applications (e.g., CMS, CRM). You'll require additional 3rd Party systems to meet the needs of a growing website. Magento brings you the scalability to take care of complex integrations. | Integration with various systems can be done via Shopify API. |
Magento Vs Shopify – Engaging Customer Experience
| Magento | Shopify |
| --- | --- |
| Using Magento, you can sell configurable, complex products. Pick up in-store and pre-ordering are other superb options available on Magento which elevate customer interaction. | The checkout process is straightforward, and there are several more options needed for adding innovation to customer interaction. |
| Drag-and-drop page builder, Preview, and Content Staging create unique brand experiences. | Structured and standardized templates are available with a few customization options. |
| 5000+ add-on extensions are accessible in Magento Marketplace for shipping,managing payment, and so on. | 2400+ add-ons are accessible on Shopify. It will take some more time to level up with Magento's Marketplace. |
Magento Vs Shopify – Numbers
| Magento | Shopify |
| --- | --- |
| Magento Commerce's License Fee is – $1,988 per month. It integrates with major payment gateways., and payment is sent directly to the gateway. | Shopify charges a transaction fee for each sale. Upgrade to higher plans; this fee will decrease. After climbing toward higher plans, Shopify reduces the transaction fee to permit you to reap more out of every qualified sale. |
| More than 5000 Add-ons (Free and Paid) | More than 2,400 Add-ons |
| Merchants using Magento grow 3 times faster on average. (as per Magento's Claim) | Business growth is great for merchants using Shopify, as it host simple eCommerce with minimal customizations. |
Magento Vs Shopify – Hosting
| Magento | Shopify |
| --- | --- |
| Network and hosting reliability comes under the control of every individual company. You can select any trusted service provider to run your eCommerce site. Besides that, Enterprise clients enjoy Cloud hosting from Magento. | Hosting infrastructure is shared among all Shopify users, as Shopify is a hosted platform. |
Magento Vs Shopify – Future Growth
| Magento | Shopify |
| --- | --- |
| Magento is a scalable solution that permits endless customization, and adding functionalities and features as per needs is easy. | If you use Shopify's basic plans, you have to search for alternatives when you need to scale up. |
| You can centrally manage B2B, B2C(or even both) with dedicated brand stores if you're using Magento. This makes seeking the help of niche commerce platforms or re-platforming entirely unnecessary. | Shopify can conveniently handle simple requirements as it focuses on B2C. Hence, for rapid expansion such as B2B, Shopify can't compete with Magento. |
| Compatibility with third-party solutions and additional digital tools makes Magento an easy choice for enriching customer interaction with your brand. | Shopify supports simpler product catalogs and regular functionalities that are required by small eCommerce companies. |
| You can conveniently manage Cross-border requirements such as multi-language, multi-site, and multi-brand can be pretty easily managed from a central location, and that proves to be awesome. | Magento proves to be better at maintaining multiple sites on a global level in comparison to Shopify. |
Magento vs Shopify: Who win's the race?
Now, it's clear that Magento is the dominator in this race, and it takes a big lead.
Magento is considered among the secure, user-friendly, and scalable eCommerce platforms available in the market. We've mentioned tons of reasons to advise Magento for any eCommerce store.
Most importantly, Magento is open source with a humongous module library and is entirely mobile0-friendly.
It's among the most flexible e-commerce platforms, as while developing amazing user experiences at the front-end, you can conveniently control interfaces at the backend.
Besides that, Marketing tools are amazing enough to promote your online store. Also, Magento has built-in features, including flexible coupons, landing page tools, multi-tier pricing, and we can clearly notice that Shopify is miles behind in this department.
Magento's latest version embraces new enhancements and features to reduce the page load time, improve mobile user experience, and so on.
Magento vs Shopify: FAQs
What are the best Magento & Shopify Alternatives?
Undoubtedly, in our Magento vs Shopify review, we're advising you to go for Magento, but nothing is wrong in rolling the gaze over a few other eCommerce platforms to comprehensively understand what else is available out there.
If you're moving into the E-Commerce world, it's pretty normal that you'll find less demanding solutions for your needs. WordPress.org blended with WooCommerce is the best recommendation we can put forth in case you're looking for a smoothly rolling content management system.
But you may face more hassle than what you feel with Shopify and Magento.
What can Magento use?
Despite our Magento vs Shopify review's statement on the high costs of Magento, we recommend this platform if you are:
Already have a well-established online store model besides funding to back up your target, and you can conveniently afford to spend time to create a store that matches your needs.
Going to start up an online store, and you're confident it will do well!
Magento E-Commerce platform is going to appear sweet to those whose requirements fit well into the above categories. However, there much scope in this amazing eCommerce platform and both small and big businesses can reap considerable benefits using Magento.
What are Magento eCommerce Tools?
Why is Magento eCommerce reviewed as an all-in-one solution, and why is it so popular? One prominent reason is its huge pool of features. We've deeply reviewed this platform and found no big feature missing. We'd love to list down the most appreciable feature:
Multiple payment gateway options
Handling of shipping charges
5,000+ extension available
Inventory management
Built-In multilingual support
Extensive coupon management
Mobile and Tablet optimized
Newsletter management feature
API for web services
Built-In SEO features
On top of that, thousands of Magento extensions (free and premium) are available from their marketplace, and you can extend your online store's functionality much further. There are even more benefits!
Should I hire Shopify Developers over Magento's?
Extreme appearance and ease of browsing aren't the only factors to consider while building a successful online store. It needs continuous nurturing from the developer to add to the store's convenience and dominate the competition.
We'd suggest you hire Magento developers if you want assistance in consolidating the foundation of an online store. In the current time, Magento developers seem to gain an edge over developers of various other sorts, as Magento developers are high in demand. Magento stores are increasing rapidly.
However, if you prefer the "affordable" tag, then you can look towards choosing Shopify store, and certainly, Shopify developers.
Shopify is established on Ruby on rail. Technical help is needed to filter it out before present on the web, as no one wants his eCommerce store to look ugly. The developers have nice hands-on experience in HTML5, jQuery, SaaS with liquid code understanding.
Shopify is an entire eCommerce cloud-based tool and is affordable besides saving more time and resources. For those looking to have full grip over the setup and structure of the store, Shopify is a great platform.
What are the major benefits of Shopify and Magento?
Shopify Pros
With Shopify, you enjoy a fully-featured website CMS, offering end-to-end store features, including payment gateway integrations, checkout, order management, and product management.
Shopify powers 80,000+ successful stores
Total control over your website's design and appearance and is entirely customizable.
Hundreds of ready to use apps are available.
Shopify is a hosted solution. So, there's no server maintenance headache.
Reasonable pricing options helping in encouraging startups and easy running of the business
100+ Professional themes
Entrepreneurs have to just run the business and sell their services/products. Though there numerous shopping cart options, Shopify brings you several more advantages.
Ever advanced state-of-the-art security
24/7 Support over phone/email
Mobile and cross-browser compatibility
Shopify Cons
Shopify designer or self-coding needs: Shopify's options prove to be limited for customization. Hence, either a Shopify expert or at least a coding person is needed.
Shopify pricing starts from $29/month, which means we can't call it the cheapest solution.
Steep learning curve: It's challenging to set up your store, as uyou'll have to switch a lot between the back and form end of the store.
Expensive Themes: You find just 71 themes in the official theme Store. Not just that, most of them are costly.
Vendor Lock-In: You won't face any SSL certificate or software installing issues as Shopify is a hosted platform. It's great as Shopify itself takes care of the technical details, but we can't ignore the inherent risk of losing your eCommerce store in case Shopify ever decides to shut the doors.
Cost of the apps hurt: Undoubtedly, you can find a few free apps, but you have to pay big if you want the most useful apps.