Joomla Vs Drupal is truly going to be a ruthless battle, as both are big names, trusted by millions!
Joomla is a user-friendly, free content management system (CMS) solution helping web developers create and manage their websites.
It's a flexible platform that streamlines collaboration besides digital publishing by using Object-Oriented Programming (OOP) processes that prove to be ideal for small businesses to huge enterprises, and even and non-profit and government organizations.
On the other hand, Drupal is a powerful yet simple open-source CMS tool that has turned into a robust web development platform. In over 200 countries, people use Drupal, and it's available in 182 languages.
Popular brands websites like Ubuntu, The Economist, Sony Music, White House, and Harvard are powered on Drupal Platform.
Choosing one of these may be a hefty decision and may consume pretty long. However, we've evaluated everything regarding these two to the deepest point.
Summary: Quick Comparison Chart
If you're into deepest confused than ever, here's a quick comparison summarizing the scene:
Joomla!
Drupal
Learning curve
Medium
Easier than Drupal, harder than WordPress.
Hard
Requires technical expertise. Major updates are an effort
E-commerce
Yes.
Extensions for content and managing products
Yes and No.
Drupal 8, the latest version, doesn't support a steady e-commerce module yet.
SEO friendliness
Basic.
Good.
Speed
Faster and less resource intensive
Consumes resources if not tweaked properly
Plug-in Availability
Few.
7000 extensions
Many.
32,568 modules
Theme Availability
Few.
Thousands of themes
Many.
Thousands of themes
Mobile-friendliness
Good.
Many mobile extensions to choose from
Good.
Going mobile is simple.
Top Examples
Harvard University
Linux
Danone
University of Oxford
The Beatles
The Weather Channel
Joomla Vs Drupal: The Ruthless Battle of the best CMS in 2021
A direct face-off is certainly a smaller way of comparing both of these, but trust us, it will bring a lot of confusion, and you won't be able to perch on one out of these.
Why create confusion? We aren't here for that, right?
We'd firstly go deep into the advantages and disadvantages of both of these one by one, and we'll, later on, get to discuss which one is more recommendable.
Let's start with Joomla first.
Joomla: What's with this lion?
Joomla is a highly-preferred SEO-friendly application that consists of robust features like keywords and metadata support, menu creation, and mod-rewrite support for SEF URLs. This platform offers both free and paid templates besides a user interface that permits customization without the requirement for codes.
The software consists of around 9,400+ available extensions to let developers extend Joomla's capabilities for various size organizations with more needs than what is brought to you in the core package. They can conveniently create add-ons that will alter the software into a framework that fulfills the clients' demands.
You can install new languages as well as several language plugins to design a multilingual website without requiring any extension. The websites are fully extendable and search engine-friendly. It can handle simple to compound website creation.
Developers can conveniently build inventory control systems, integrated e-commerce reservation systems, application bridges, and even communication tools. This software is based on PHP, offering structure to the website and on MySQL, enabling the instant display of searchable info to the website user.
The CMS solution consists of a privacy tool suite known as Joomla 3.9 that gathers and manages users' consent to terms and conditions and privacy policies.
Apart from that, it automatically handles user data removal requests besides permitting users to conveniently see action logs for admin activities performed on the website. Joomla has the necessary features for design, publishing, content editing, and CMS management.
How does this lion roar: Joomla Benefits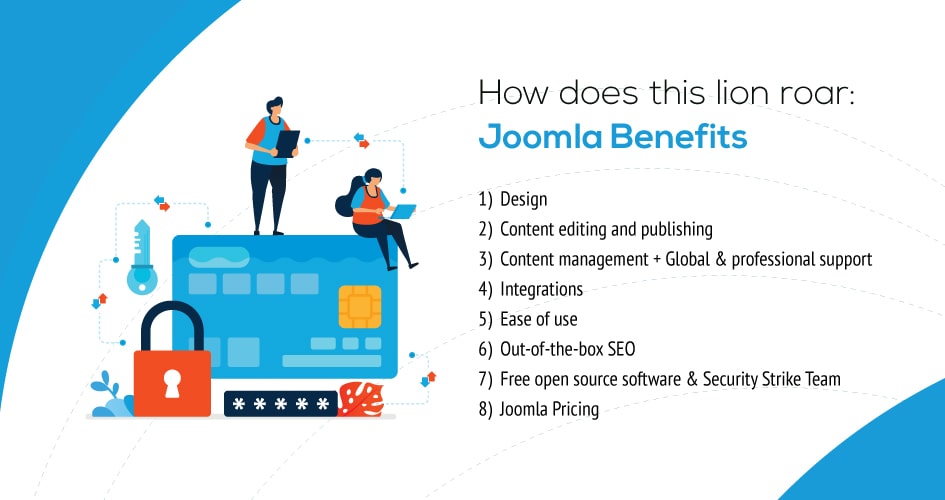 One of the core advantages of Joomla is that the software is available in 70 languages. It brings you multilingual content management besides language associations permitting users or developers to build a multilingual website with ease.
Bloggers, developers, and all users will be delighted by following advantages from building a website in Joomla:
1) Design
Template override permits users to customize their JLayouts and web design, a simple system that offers codes for rendering HTML from data and objects. Apart from the potential to customize the design, users are free to modify the templates in addition to accessing template clubs or external frameworks.
2) Content editing and publishing
You can schedule the publication or release of your articles using the publishing tools.
Default WYSIWYG content editors such as TinyMCE are available for text formatting, embedding media, adding emoticons, and inserting images. Another one, CodeMirror, isn't a WYSIWYG editor. It needs users to have basic HTML know-how for creating and submitting content.
The editor buttons permit users to add a function to their content, like adding a link to a module, contact, or menu on the site. Eight edit buttons are available for you to add: Module, Contact, Fields, Article, Menu, Page Break, Image, and Read More.
You can find a Media Manager in the Control Panel. You can use it for uploading and deleting files from your directory on the webserver. Additional functions are available for creating new folders, to the Options window to let users find the settings, and a button to move to the Help screen.
3) Content management + Global & professional support
The system sends a notification for the software update and the extensions with a reminder that the website requires to be backed up before the updating process (so that nothing gets lost or disturbed)). The extensions can be downloaded from the website without any hassle.
Joomla has a wiki page consisting of comprehensive information regarding Joomla, and you can access it in different languages.
Besides that, there are links to the various versions of Joomla CMS, the website for reporting issues or bugs, and the password recovery page. There are experts throughout the world who can provide you with paid support, while some generous folks do that for free!
4) Integrations
Some of the software's integrations are MarvikShop, eCommerce, Alipay, and Amazon Link Globalizer for e-commerce; Ignite Gallery, Creative Slider, Droppics, and Smart Slider, for photos; Google Structured Data, SEO-Generator, JoomBall Cookies, and Asynchronous Google Analytics, for site management; Article-Generator, YouTubeR Facebook Feed Pro, and JFBConnect, for the social web; EngageBox, MetaMod, Phoca Favicon, and Advanced Module Manager for style and design; and Mini FrontPage, Tooltips Zentools, and RAXO All-mode PRO for news display.
Antispam by CleanTalk, KeyCAPTCHA, Email Protector, and Instant Facebook Login are some of the security and access extensions, and servers and hosting are done via phpMyJoomla, Collation and Engine – Changer, SiteClone, Server Cache, among others.
5) Ease of use
The software brings your customizable free and paid templates, most of which offer a flexible graphical user interface. This permits users code-free access to redesigning and changing layouts, colors, features, and fonts.
Folks with little or no tech knowledge or First-time users will be able to develop a website independently and in less time. The library of training videos and free documentations provides users with instructions and information on how to efficiently and effectively install and use Joomla.
Deeper knowledge comes from the system's official wiki docs.joomla.org. Further, you can find the video tutorials on training.joomla.org, and if you wanna come in touch with the official Joomla community via the official forum, ten tap the forum on forum.joomla.org.
6) Out-of-the-box SEO
The framework has a powerful SEO system like keywords, metadata, and mod_rewrite support, especially for SEF URLs. Links to particular pages are user-friendly and search engine-friendly due to the automatic creation of aliases for the default PHP sequence when a post or menu item is created.
At the same time, SEO configuration could be personalized as every menu item is offered with its own keywords, meta description, and robot settings. This ensures the content is easily searchable and ready for optimal accessibility.
7) Free open source software & Security Strike Team
Joomla was made and is handled and supported by a community of copywriters, extension developers, designers, integrators, and a host of other IT personnel who keeps the framework a forever-free OOS (open-source solution).
The Security Strike team is made of developers and users from different nations who've volunteered to tackle and fix framework security problems.
The framework is equipped with comprehensive access control levels and two-factor authentication. Joomla offers security patches by constantly upgrading its CMS. This keeps viruses and malware from attacking the framework.
8) Joomla Pricing
The framework could be downloaded for free, without the requirement to offer credit card information. Users have an option to utilize domains.Joomla.org. Operations of the sale will help fund the project as well.
Requesting for a particular domain name costs a minimal fee. The expense depends on the kind of domain desired. A .com expenses $13.99 a year, a .at is at $16.99 a year, a .net is at $15.99 a year, while .club expenses only $0.99 a year.
Joomla survives on the community sponsorship campaign where every amount corresponds to a promotion or particular level of exposure on the website:
A donation of up to $1,000 offers the donor the chance to be listed as a sponsor on the website's sponsor page. At a max of $2,000, both the company and the donor's name would be listed on the page of sponsor. A hyperlink would be included to the advantages list for a donation of more than $3,000.
The donor that offers over $3,000 would be offered the same advantages, plus a chance to also showcase the brand logo and the hyperlink listed on the featured section of the sponsor page.
On top of that, Corporate sponsorships range between $5,000 – $25,000 per year, with perks like press releases, display of logo, leaderboard banners, and social media posts on two of the Joomla websites.
What are the disadvantages of Joomla!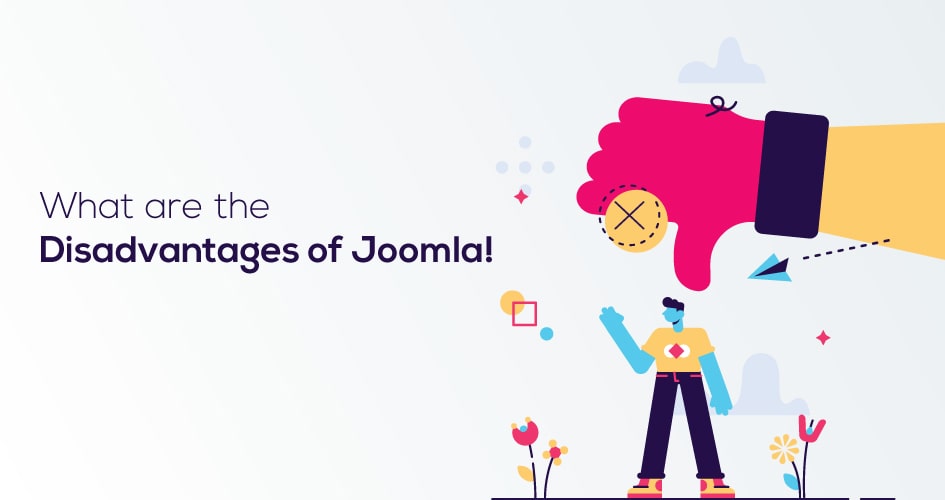 1) It could place a greater demand on the server resources.
If a site receives thousands of different hits per day and has more than two pages that should remain life, then this platform could have an awfully big demand on the server parameters. This platform is kind of a mid-sized choice for those who wanna have a professional website and good CMS alternatives.
2) There are only some extra modules available.
This platform comes with a limited marketplace whenever it comes to including modules to your website. You could certainly still modify your website fairly easily.
However, it could be tough to find something particular that you require and be capable of installing and handling it immediately as you could do with WordPress.
3) You must navigate through paid plugins.
Unlike WordPress or Drupal, there are many premium plugins and modules which are accessible for this platform. Many times there are free scripts accessible to users additionally to paid ones. New users may find themselves paying for those plugins and modules before realizing that they can gain what they required for free in other scripts.
4) There could be some compatibility problems.
Some of the modules for this platform could have some frustrating compatibility problems. Unless you dig inside the PHP code to modify, it might be tough for some to obtain access to the full functionality of their needed plugin.
5) Adjustment options are limited.
This platform has many modules, templates, and plugins accessible to it; however, some users might find that there just is not enough to make the exact experience desired. There's strength in its complexity, particularly with its deep navigation. However, some might require a platform that is stronger.
The cons and pros of Joomla show that this platform could offer you some modern CMS tools for a good-looking website. Take a peek to figure out if you could manage the negatives and then get to work making your next website.
What's with Drupal?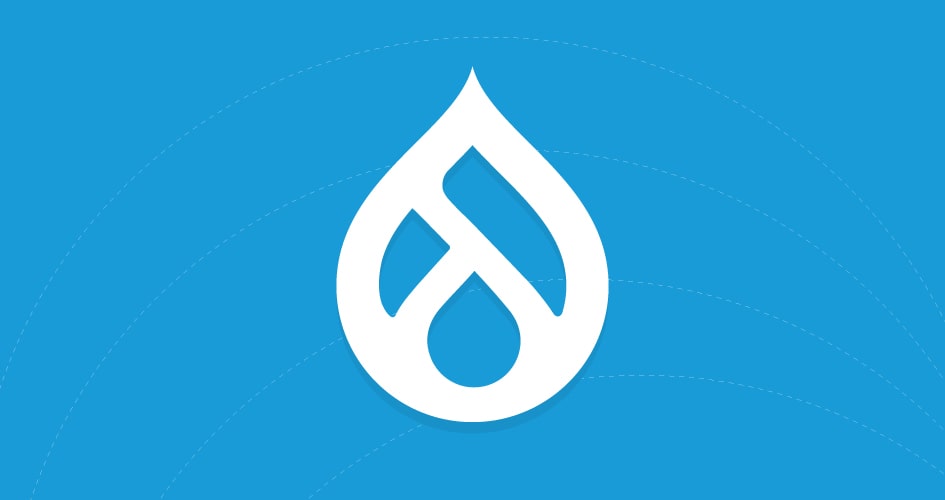 Drupal has been around even before WordPress, though it does lack WordPress's gaudy market share though. Launched in 2000, Drupal powers 2.3% of all sites and also has a 4.6% share of the CMS market.
Some notable sites running on Drupal are:
State of Colorado

University of Colorado

The Economist

Nasa.gov

Dallas Cowboys
Today Drupal supports more than 182 languages and is utilized by people in 228 nations. Drupal utilizes a very sophisticated programming user interface and has a hard learning curve.
It's considered more of a developing platform than a simple CMS tool. It has in-depth report-producing tools for pro admins. Although no programming is needed for basic use, the system is basically utilized by more pro Drupal developers and administrators.
This is the main reason why most of the general users go with the more general CMS platform like WordPress, although they could make basic websites simply utilizing Drupal.
Like any other technology, Drupal has its share of cons and pros. A few of them are discussed below.
Drupal benefits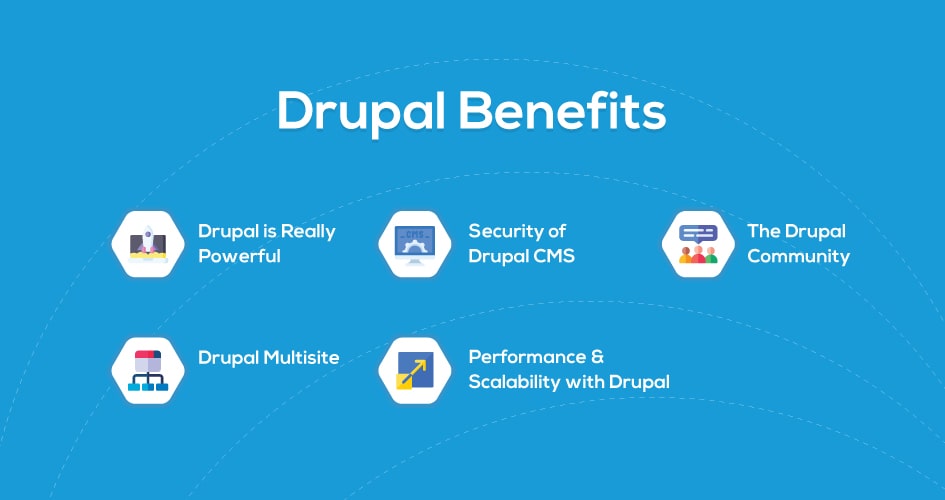 1) Drupal is Really Powerful
Is Drupal really more robust than other CMS?
The power of Drupal. It is unrivaled. And it is exciting. Having worked with a ton of CMS's(and also frameworks) in our time, as far as we are concerned well, Drupal takes the cake here.
The content management system has so much to offer in terms of flexibility and power and is so stealthy, which scares us at times. And we are serious. Out of the box, the performance of Drupal is stellar. Whatsmore, it's seemingly only enhancing with time.
We remember the first time we tested out a beta of Drupal 8. And boy, was we impressed. The server we utilized was in fairly poor shape. However, the CMS behaved in a way that truly stunned us. And that is the beauty of Drupal, and why we fell so in love with it – from the very first day.
Since Drupal is capable of doing so much given its flexibility, it is easy to make any type of website – intended for many kinds of industry vertical, with even the complex of specifications and requirements.
And due to CMS ships with a lot of core modules installed and pre-configured, we are now capable of taking a Drupal website from conception to delivery in no time at all. Especially with the release of Drupal 8, things became considerably easier.
Ok, what else?
Drupal now permits for inline, on-page modifying – and takes it from a WordPress fanatic (we admit…) Visual Composer and WordPress are nothing in comparison. Since the CMS permits override to the functionality directly at a theming level, so, you do not even require to build a custom module in a lot of cases.
How easy is that?
You could literally stick all basic modifications to Drupal's functionality within your website's theme without writing a single line code for any new module. And since the implementation of the Symfony framework in Drupal 8, back-end development has been even easier. Say your goodbyes to standard-old-PHP.
2) Security of Drupal CMS
Is Drupal really secure, as they say?
One of Drupal's robust selling points since its inception in 2000 is security. As a CMS, Drupal offers security that's second to none.
The content management system isn't only touted as the most robust of its kind, however also the most secure. In more than two decades of Drupal, the Drupal content management system has faced only two major security vulnerabilities.
Colloquially known as Drupalgeddon 2 and Drupalgeddon, these 0-day vulnerabilities affected thousands of Drupal websites across the nations, taking down the sites of even enterprise-level Drupal users.
These vulnerabilities were true of a considerable nature and cannot be dismissed—the Drupal project could proudly say that it faced a majorly lower occurrence of critical security vulnerabilities.
Recently Drupal threats have been mitigated, and as a corporation specializing in Drupal, besides that, we forecast that the content management system would face an even further-reduced threat of the potential security vulnerabilities. This, in part, is because of Drupal's new reliance on the robust Symfony framework since version eight was released back in 2015.
Since the Drupal version at any time uses a slightly older version of the Symfony than is available right now, Drupal permits itself extra time, beyond the regular update schedule of the Symfony, for that individual version of the framework to mature.
Security-wise, this isn't only a smart move from the Drupal project, however also highly advantageous to the integrity of the Symfony-based script now shipped with Drupal.
3) The Drupal Community
What is the size of the Drupal community?
The community of Drupal is pretty huge. It is really expensive. One of the main things that Drupal has completed successfully over its 18 years of existence is developing a community of resourceful, enthusiastic, and devoted Drupalers across the world.
And the best bit?
Drupal has developed such an offering community, so many Drupal developers are willing to help their peers for no cost.
In our time working with the CMS, we have rarely experienced many difficulties in finding an answer for Drupal-related questions online. Since Drupal is quite mature, we are generally capable of finding answers to even the obscure questions and development woes utilizing a quick Google search.
4) Drupal Multisite
How can you execute multiple Drupal websites with the same codebase?
One of the lesser-known functionalities of Drupal is known as multisite. This feature is quite unique to Drupal, although some CMS sport a fairly identical feature (the likes of MuraCMS, for instance).
What is Drupal Multisite?
The multisite functionality in Drupal permits developers to essentially develop multiple sites utilizing one solo Drupal installation. That means all sites could share one single codebase, negating the requirement for you to update, monitor, and handle every website separately.
This functionality works ideally in some different instances. However, multisite is unique from multilingual. It is certainly possible to have a multilingual site with Drupal, and in fact, we would say it is one of Drupal's largest strengths; however, multisite is something slightly unique.
While you could definitely use Drupal's multisite ability to make multiple versions of the one website in different languages, it is not actually the intended use-case, though. That is what the Drupal Internationalization module is for (and it is a great module, we utilize it frequently here at accuwebtech).
5) Performance & Scalability with Drupal
Is Drupal superior at scalability and performance?
Drupal is especially famous for its great ability to scale.
In fact, that is one of the main reasons that many enterprise-level consumers select Drupal. The content management system really ships with functionality and tools to handle scalability, with a forward-thinking program structure and modules particularly devoted to future scalability.
And since a lot of what you make in Drupal is reusable (entity references, taxonomy, for instance), it is extremely easy to scale as your business starts to expand.
Although Drupal has pre-installed mechanisms for managing the scalability of your website or application, there are tremendous ways to further improve performance beyond the scope of the features in the content management system.
Some of the ideal ways to enhance scalability and performance in Drupal are:
Use of contributed modules for high-traffic scaling and performance

Finely tuned server scaling (both horizontally and vertically, or even multi-server)

The utilization of a content delivery network
What are the Cons of Drupal?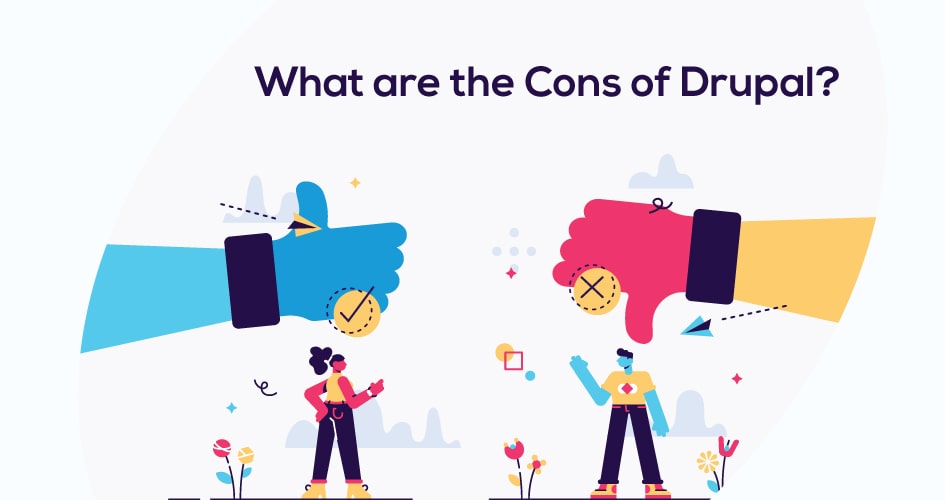 1) The Drupal Learning Curve
One of the largest complaints with Drupal is the initial learning curve. A lot of developers who're proficient in optional open-source CMS (like WordPress) basically find Drupal too complex'.
In fact, we disagree that Drupal is tough to learn. However, regardless of our personal opinions, there is no denying that a huge proportion of new Drupal holders experience difficulty.
We think it comes down to the fact that Drupal behaves uniquely than most other CMS, and we do admit that there's some learning that you gonna go through in getting to know Drupal.
This is probably the challenging segment for newbies in Drupal; they've to become utilized to work with a framework that varies greatly in behavior from what they may be utilized to.
If you know PHP, you will probably discover learning WordPress a total breeze. Drupal is a bit different in this regard. Whether you're proficient in PHP, there is still a slight learning curve whenever it comes to Drupal.
How Tough is Drupal?
Because Drupal is so modern and has so much advancement, there are many components to the content management system that your developer might not have experience in. For example, the views module in Drupal permits for a highly intricate level of modification in regards to how content is handled and displayed on the website's backend ( or frontend).
The way views work is different, and it would likely take some learning to understand how it actually works. You will not have had experience handling something identical if you are coming from WordPress development, for instance.
2) Support for Drupal
Drupal is a more specialist Content management system than its counterparts Joomla and WordPress; obtaining support for the framework might be a bit tricker.
Overall, there are a few more agencies and support givers available for Drupal. In addition, the fee for recruiting a Drupal developer is generally significantly higher.
3) Drupal Maintenance
One of the disadvantages of Drupal is the ongoing maintenance which the CMS needs.
Like all content management systems, you will have to keep on top of upgrades and security patches; however, you will have to be ready to integrate scalability resources and techniques once your viewership and traffic begins to increase.
Tweaks to server behavior might eventually have to be made to improve the scalability of the website since it is such a heavy content management system.
4) Premium Theme Availability
Due to Drupal's ecosystem being hugely built on its developer-contributed mindset, open-source, there is a considerable difference in the number of premium plugins and themes available for the content management system when compared to any other alternatives.
Certainly, Cocoon is the largest vendor of premium Drupal themes. We have themed thousands of Drupal websites over many years.
The Bottom word: From where to hire?
Whenever it comes to hiring a Drupal developer, it's a very critical business. An expert from where you hire must be from a top-rated company. The expert must be smart to understand your needs and should assist the requirements of yours.
As a Drupal development company, satisfying the customer as per their expectation is each employee's job here. You could hire a Drupal expert by visiting our official website, or you can contact us using this email of accuwebtech.
To know more about the bes 2021, Click here.
Final Word,
It's completely on the client's choice about selecting the content management system. Joomla and Drupal have their own unique advantages in unique types of websites. Users could utilize the framework as per their needs.